Fun Facts About Murfreesboro TN
Posted by Chance Toon on Monday, May 1, 2023 at 9:04 AM
By Chance Toon / May 1, 2023
1 Comment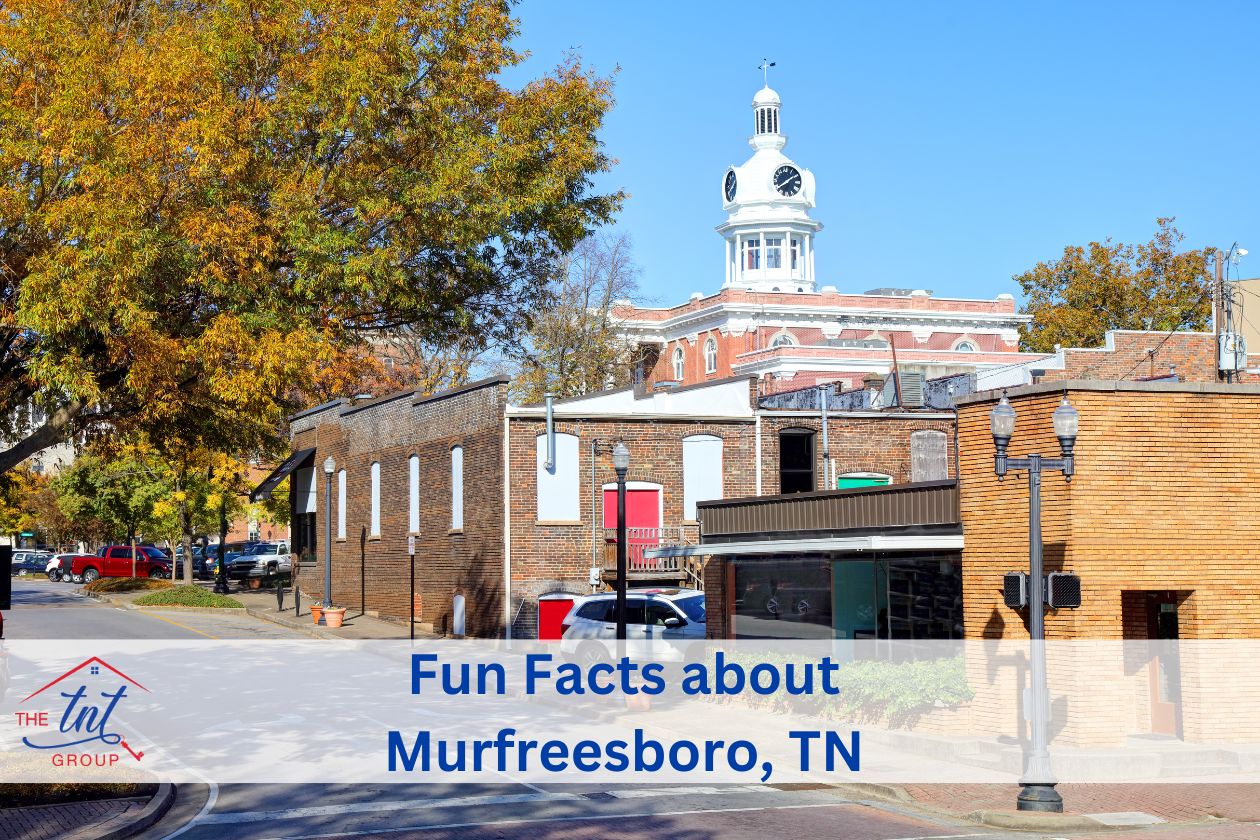 Last updated on Aug. 22, 2023
Fun Facts About Murfreesboro Tennessee
Nestled in the heart of Middle Tennessee lies Murfreesboro, a vibrant city that echoes with the cadence of a rich history and the promise of a dynamic future. From its captivating downtown district to the prestigious university it hosts, Murfreesboro stands as a multifaceted haven, catering to diverse passions and interests. Whether you're a history enthusiast, a nature aficionado, or a connoisseur of cuisine, this city offers an abundant array of experiences waiting to be uncovered. In this extensive exploration, we embark on a comprehensive journey through the captivating tapestry of Murfreesboro's attractions, uncovering its hidden gems, and celebrating its captivating essence.
Discovering Murfreesboro's Rich Historical Landscape
Murfreesboro's historical tapestry is interwoven with threads of significance, echoing tales of a bygone era that continue to resonate in the present. This city played a pivotal role during the Civil War, a legacy etched into its very foundation. The Stones River National Battlefield stands as a hallowed ground, beckoning history enthusiasts and curious minds alike. Encompassing 570 acres of revered land, this park stands as a living monument to some of Tennessee's most crucial Civil War sites. Among the relics of the past, the Hazen Brigade Monument and the Stones River National Cemetery hold poignant stories that recount the valor and sacrifices of those who came before.
Stepping further into history's embrace, the Oaklands Mansion emerges as an exquisite testament to the past. A meticulously preserved plantation home from the 1800s, this mansion transports visitors on a captivating journey through time. Wander its opulent halls and lush gardens, immersing yourself in the echoes of days long gone. The Oaklands Mansion is a gateway to understanding the tapestry of Murfreesboro's history, offering a window into the lives, aspirations, and challenges of those who once called this place home.
Outdoor Odyssey in Murfreesboro's Natural Haven
For those seeking communion with nature, Murfreesboro's embrace is warm and inviting. The city unfolds its verdant arms, revealing a treasure trove of parks and greenways that beckon outdoor enthusiasts. The expanse of Barfield Crescent Park spans 430 acres, inviting visitors to traverse its hiking and mountain biking trails, bask in its picnic areas, and revel in its playgrounds. Nature lovers will find solace here, surrounded by the symphony of rustling leaves and the serenity of open spaces.
Gateway Island, a verdant sanctuary spanning 31 acres, captures the essence of tranquility. With its shimmering lake, winding trails, and inviting amphitheater, this island provides a scenic haven for reflection and rejuvenation. Yet, the natural wonders of Murfreesboro extend beyond its borders. The Cedars of Lebanon State Park, a short journey from the city, opens the door to a world of immersive outdoor experiences. Hike along meandering trails, embrace the camaraderie of campgrounds, or bask in the refreshing waters of a swimming pool—an idyllic retreat for those who yearn to reconnect with nature's beauty.
Unveiling the Charms of Murfreesboro's Vibrant Downtown
Murfreesboro's downtown district is a vibrant tapestry of activity, an eclectic blend of shops, gastronomic delights, and cultural treasures. The heartbeat of this city echoes through its charming streets, inviting exploration and discovery. For an unparalleled shopping experience, the Downtown Murfreesboro Saturday Market stands as a beacon. This outdoor marketplace is a haven for artisans, farmers, and food vendors—a celebration of local creativity and produce.
Dive into the cultural mosaic of Murfreesboro through the Center for the Arts. This community theater stands as a bastion of creativity, hosting live performances that captivate hearts throughout the year. Its stages come alive with stories that resonate with audiences of all ages, bridging the gap between the past and the present through the magic of theater.
The Murfreesboro Discovery Center invites curious minds of all ages to partake in an immersive exploration of science and discovery. This hands-on museum is a realm of wonder, where interactive exhibits spark curiosity and ignite a passion for learning. Whether you're a child marveling at the wonders of science or an adult seeking new insights, the Discovery Center offers an enchanting journey into the realms of knowledge.
Savoring the Gastronomic Delights of Murfreesboro's Culinary Tapestry
Murfreesboro's culinary scene stands as a testament to the city's diversity and cultural richness. A symphony of flavors unfolds, inviting you to savor every mouthful and explore the multifaceted essence of cuisine. From the heartwarming embrace of Southern comfort food to the global allure of international delicacies, Murfreesboro caters to a myriad of palates.
The Alley on Main beckons as a modern gastropub, where elevated pub fare takes center stage. A convergence of innovation and tradition, this establishment welcomes diners to savor culinary excellence in a trendy setting. Meanwhile, Demos' Restaurant stands as a local icon, celebrated for its Greek-inspired dishes that pay homage to authentic flavors.
Indulgence finds its embodiment at The Soda Bar, a vintage-inspired soda shop that delights with its decadent offerings. From ice cream floats that transport you to simpler times to milkshakes that evoke nostalgia, The Soda Bar invites you to indulge your sweet tooth in an atmosphere of charming nostalgia.
Here are some links that are important to learn about Murfreesboro.
Conclusion: Embarking on an Unforgettable Journey
In the heart of Middle Tennessee, Murfreesboro stands as an embodiment of history, nature, culture, and cuisine in harmonious symphony. Each facet of this city contributes to a vibrant tapestry, weaving together stories of the past, promises of the future, and the joys of the present. From the hallowed grounds of the Stones River National Battlefield to the inviting expanse of Barfield Crescent Park, from the bustling streets of downtown to the tantalizing flavors of its restaurants, Murfreesboro captivates hearts and minds in a spellbinding embrace. Embrace the opportunity to explore its hidden gems, traverse its pathways of history, immerse yourself in its cultural treasures, and savor the delectable offerings of its culinary landscape. Murfreesboro beckons, inviting you to uncover its enchanting charms and create memories that will linger for a lifetime.
Want to buy a home in Murfreesboro, TN?
Selling a Home in Murfreesboro, TN?